March 26, 2011
---
Silent Hill: Homecoming
As a new edition to the Silent Hill series, this game tries to cater for fans of the games, and the movie.
Alex Shepherd, a Special Forces soldier, returns home after a tour of duty overseas, to find that his younger brother and father are no where to be found, his mother has become catatonic and something is very wrong with his hometown of Shepherd's Glenn. His search for answers eventually lead him to the notorious Silent Hill.
Game play is very similar to previous games in the series, being able to hold and use multiple weapons and items, with the return of the old factor that weapons do not break after using them a few times. One new addition is Serum, which, when taken, fills up the health gauge and increases the gague a small amount too, compared to the usual Health Drinks and Med Kits that are available throughout the game.
Exploration and puzzle solving to advance the story is still the main point of the game, whilst fighting monsters along the way. Alex will turn his head towards any items that can be picked up, which can be very helpful for the player. As for combat, there is a much wider range of attacks to use, as Alex is an ex-soldier. So the use of heavy or light attacks, or a combination of the two, as well as very effective dodging can all be used to create the best method for defeating different types of enemies.
A new point for the game is being able to select different options of dialogue for Alex to speak during certain conversations, which will effect things later in the game.
Looking beautiful in HD, when being transported the the "Nightmare World" is very similar in effect to what happened during the film. This is either a hit or miss with fans of the series, but it does work very well, and does still give the feeling of earlier Silent Hill games. Same goes the inclusion  of the best known monster of the series: Pyramid Head. He could be perceived as being unnecessary, however, as the plot is based on Alex's perception of things and is more psychological, like Silent Hill 2, there is a good explanation or theory as to why Pyramid Head appears.
As another game in the Silent Hill series, this game just doesn't seem to quite "fit". However, as a stand alone game, it is excellent. With a great story, full of action, suspense, genuine scares and beautifully depicted, there isn't much to fault this game with, though may dissapoint die hard Silent Hill fans.
Rebecca Foran
3 notes
See Post tags #silent hill #homecoming #review #game #game review #pyramid head #alex sheperd

March 29, 2011
---
Alan Wake
This masterpiece, which has spent years in the making, fully lives up to the hype surrounding it. Quoted as "A Psychological Action Thriller", the best way to get the full effect of this game is to turn off all the lights, unplug the phone and turn the television up loud.
Alan Wake is a successful horror writer, come to the small town of Bright Falls with his wife, Alice, to overcome his writers block. However, on their first night there, the lights go out, and with Alice's crippling fear of the dark, Wake goes to fix the problem, but comes back to find her missing; and evidence of her having been dragged into the dark waters of the lake next to the house.
Strange events begin to unfold, with Alan being attacked by shadow clad people and objects, that can only be hurt in the light, and flashes of scenes from a story he cannot remember writing, that also turn up in the form of random manuscript pages throughout the game.
Is Alan crazy? Is this all a fabrication of his mind to explain why Alice went missing? Or are there darker, more sinister forces at work?
With beautiful graphics and excellent combat controls, great voice acting and a fantastically luring story, it is hard to find fault with this game. 
With an episodic story line and reeking of likeness to Stephen King novels, which the game openly admits, this is both suited to die hard fans of horror and Stephen King, as well as more casual gamers who seek an exciting game, that is fast paced and full of action.
Alan, wake up!
Rebecca Foran.
1 note
See Post tags #alan wake #game #review #game review #gaming #xbox #xbox 360

March 31, 2011
---
Lost: Via Domus
In an attempt to submerge die hard fans of the hit TV series Lost into it's mysterious and deadly island, Lost: Via Domus, falls short on many levels.
Starting from notorious Flight 815, then crashing onto the island, as another member of the survivors along with characters such as Kate, Jack and Hurley. Suffering from a bad case of amnesia, progression through the episodic pace of game play gives the odd flashback; in which you must use your camera to take photos of the hazy memory and find clues within, to try and remember facts about your life. All the while being hunted by someone on the island who wants you dead for your actions before the crash, leading to a race against the clock to remember what happened.
Running from the Black Smoke Monster, confronting "The Others", and being trapped in the Hatch are but a few iconic things reminiscent of the series that appear in the game, as well as a few pivotal and much loved characters.
With very simple game play, average graphics and running your characters own story line along side the main plot of the show is very disappointing. The game has created new scenarios for your character's story to take place, and forces the main characters to do things that never occurred in the TV show.
This game isn't so terrible that it's unplayable, but maybe only worth playing for those who wish to immerse themselves in the world of Lost, don't care too much about the story line and don't get upset that it picks a lot of holes in the original story. Or those who fancy an easy 1000G (Gamer Score).
Riding on the coat tails of the series, hoping for success of it's own, this game is a failure. Another bad attempt at taking something from TV and turning it into a video game. When will they learn?
Rebecca Foran.

See Post tags #lost #lost via domus #via domus #tv #tv series #game #gaming #review #game review #xbox 360

April 2, 2011
---
Project Zero 2 - Fatal Frame 2: Crimson Butterfly
Sequel to the cult classic Project Zero (Or Fatal Frame, outside of Europe), this is an amazing game and how a sequel SHOULD be done.
Twins Mayu and Mio Amakura visit a place where they used to play as children, when Mayu, who walks with a limp after a childhood accident, wanders off into the woods, following a crimson butterfly. Mio follows her sister and they soon become lost in the forest, and uncover a village, seemingly abandoned.
As they begin to explore the town, they realise something is terribly wrong as they are attacked by ghosts, reliving the day of the failed ritual that trapped them in this state.
Through a vision, Mio uncovers the Camera Obscura and learns that it is the only thing that can hurt the ghosts that haunt the town. Not long after, Mayu leaves, following more crimson butterflies that seem to be calling her. And so, Mio begins to search for her sister, fighting her way through ghosts and trying to uncover the history of the town.
A fantastic storyline that unravels around the stories of the ghosts themselves, as well as the town as a whole, twisted, sometimes sick, and deeply connected to the first game.
The gameplay is very similar to the first game too, with puzzles, some that can only be solved by taking pictures of certain areas to give you clues to what items are needed. Also with moments to take pictures of ghosts that are not hostile, to earn you points towards levelling up the camera, is good for replay value too, to try and capture them all.
The controls and battle system are similar to before, with all aspects having been gone over with a fine tooth comb and refined for ease of use.
The Camera Obscura levelling up system has been expanded with extra special functions that can paralyze, slow down or push back enemies, as well as the addition of Type 7 Film that can never run out - very useful for capturing images for puzzles or for non-enemy ghosts.
With a much larger area to explore - a whole town, extra areas for those completionists to take on, beautiful graphics for the enviroment and characters, atmospheric music and terrifyingly scary, this game deserves to be played by horror lovers and game lovers alike.
Rebecca Foran

See Post tags #project zero #fatal frame #crimson butterfly #project zero 2 #fatal frame 2 #game #review #game review #playstation #ps2

April 5, 2011
---
Bayonetta
The female Dante? Or a whole new breed of badass?
This super sexy, kickass, hilarious and loveable lady, is something that the gaming industry has desperately needed for a long time!
You are Bayonetta, a witch revived twenty years ago from the bottom of a lake and have little memory of your past. And so the journey begins, with the help of Enzo, an informant, trying to discover the events of your past.
Very similar in feel, style, and game play to that of Devil May Cry, this game is fantastic for fans of the series, as well as total newcomers. Bayonetta has her own sexy, flawless style; upbeat, headstrong and hilarious to boot.
Beautiful in design, rich and detailed, not just with characters, but with enemies and the surroundings. With totally over the top cinematic's, combat, and storyline, this really is a breath of fresh air in the gaming world, and, as such, makes it very easy to fall in love with. On top of all that, the general mood of the game is very upbeat, with humour throughout, which will have you laughing along with Bayonetta's awesome one liners.
Combat is very open, with outstanding moves and combinations of moves resulting in exquisite mauling and death. With an onslaught of different enemies, each needing a different technique to defeat, and bosses with extensive battles needing different tactics every time, fighting never becomes repetitive or boring. Bosses can be hit with a final blow - a creature made from Bayonetta's hair! From a giant dog, to a  massive spider, to a giant fist! Each Chapter is very original, with a new challenge every time, not just from enemies, but from the surroundings too.
Using a system of collecting "Halo's" as a form of currency, to buy items, weapons and new moves, is very handy. You can go back and replay a Chapter, to collect more Halo's if needed, search for items, or you can openly change the diffuculty between level, if you are finding things too hard, or too easy. Being a SEGA game, even on the "Normal" difficulty setting, things are very difficult. So those wanting a challenge, or are naturally gifted with games, may want to use this setting, though there are other settings such as "Easy" and "Very Easy" for the rest of us.
Also with a feature that was surprising to find in this game, you can create items by mixing together supplies you find along your travels. This saves a lot of your Halo's, as well as being interesting, simple, and fun to use. You can set items to "Hot Keys" on the D - Pad, very useful as it saves having to go into the inventory menu every time you need an item, interrupting combat and the general flow of the game.
This game is great fun, beginning to end. Taking you on a ride along with Bayonetta as she uncovers her past, full of action, magic, laughs and even love, it's hard to find fault anywhere with this game.
Rebecca Foran

See Post tags #bayonetta #sexy #woman #game #games #gaming #review #game review

April 9, 2011
---
Silent Hill: Shattered Memories
A remake of the very first Silent Hill game, using a few new techniques to scare the player, and throwing aside some old ones.
You play Harry Mason, having just survived a car crash, you begin to search for Harry's daughter, Cheryl, who was also in the car, but has now disappeared. As Harry searches around Silent Hill, he suddenly sees a change in the environment - from covered in snow, to caked in thick ice, and soon, he is chased by creatures, with no means of which to fight them.
This game is great fun to play, and, though enemies cannot be fought, this line of game play installs a new type of fear in the player. Having to run away from enemies, hide, or use a flare to keep them at bay, is absolutely terrifying. Though, after losing your way a few times and dying, this does become a bit repetitive.
The game also psychologically analyses the player to adapt itself to create the players own personal nightmare. This is done through therapy snapshots, in which the player must answer questions, colour in pictures etc. And also throughout the game itself, by collecting certain items throughout the town, or by looking at certain things; such as naked mannequins and family photos. The last way the game can analyse the player is by the choices they make, the places they choose to go to - either a diner, or a bar - and other interactions such as giving assistance to those in need.
The game will then change in some very noticeable ways, and some not so noticeable. Characters you meet along the way will act and be dressed differently, places you visit will be called different things, and lastly enemies will change their appearance.
The environments are very moody, but do not have the same feel as other Silent Hill games, this game feels much cleaner, and is at the other end of the spectrum colour wise, being mostly blues and whites. Controls are very simple to use, and are intuitive for the Wii - the few simple puzzles that appear in the game utilise the Wii controls. For example, having to grab hold of a zip on a jacket, then pulling the zip downwards to find something. Or pulling out screws that has bolted a window shut.
Harry also has a phone this time around, using it for a map, to make and recieve calls, texts and answerphone messages. The phone also has a camera function, which is used for Harry to take pictures to solve puzzles or to take pictures of ghosts that appear throughout the game. This also gives the game some replay value, as the player might want a bit of a challenge, trying to find them all. Otherwise, this does not affect the story. One other perk that the phone generates is being able to call phone numbers found around the town on posters, walls, and other areas. Sometimes to solve a puzzle, other times just for fun.
This game is great, and a must play for those who own a Wii, or a PS2, though feels much more engaging when playing on the Wii. For those die hard Silent Hill fans, this game is either either a hit or miss. You may hate it because it feels nothing like previous titles, or you may love it because it is a breath of fresh air and very interesting, despite the story and events not correlating with the original game.
A scary game, but not as scary as other titles, and with a whole new feel with the psychological profiling aspect, this game is a must play, for everyone. Even if it's only once, to see what your own personal nightmare in Silent Hill would look like.
Rebecca Foran
3 notes
See Post tags #game #game review #games #gaming #harry mason #playstation #ps2 #review #shattered memories #silent hill #silent hill shattered memories #vide game #wii #silent hill

April 11, 2011
---
Deadly Premonition
You are FBI Agent Francis York Morgan, expert profiler, and a split personality named Zach, come to the small town Greenvale to investigate the murder of a young woman, Anna, who was killed and hung up on a tree.
With the help of the Sheriff and his Deputies, you ask the resident of Greenvale questions, visit their homes, find clues and occasionally are sent into the "Other World" where you fight enemies and of course, the killer.
Though the graphics and controls are terrible, reminiscent of the first Silent Hill and Resident Evil versions for the PS1, and the music is normally out of place - with up beat jazz coming in on heavy, pivotal scenes - there is one saving grace for this game: the story.
One of the most interesting aspects of the story is the main character, Agent York, and his split personality. Only giving small pieces away during most of the chapters and saving the twist until the very end.
As well as the main plot, trying to find out who the Raincoat Killer is, which takes you on many twists and turns, with a few red herrings and false leads. After hours of getting used to the story and how clues are relevant, getting good at riddle solving and connecting the dots becomes easy, and sometimes can make the game predictable - up to a point. The story is remarkable and makes it unable to prematurely guess the final twist in the tale.
There are many sidequests to do, to give you greater insight into other characters who are involved in the case, though they are more for fun than nessacery to the story. However these can give you many hours of gameplay and replay value. Also added quirks include having to shave, otherwise Agent York grows stubble. Changing clothes regularly, or else he becomes dirty and surrounded by flies. Eating and sleeping regularly, as well as paying to maintain your car.
If willing to look past the terrible graphics and controls, and look deeper and want to enjoy a thrilling story, then this game is worth playing, right to the end!
Rebecca Foran
2 notes
See Post tags #deadly premonition #game #review #game review #horror #mystery #games #gaming #video game #xbox #xbox 360 #fbi #francis york morgan #raincoat killer #killer

April 17, 2011
---
Saw
Bringing the notorious movies to life, this game is full of the well known traps and puzzles created by Jigsaw to challenge those who abuse life.
You play Detective Tapp, who is obsessed with Jigsaw. Tapp wakes up in an old mental asylum to find he has been captured by Jigsaw, who has implanted a key in his body. Jigsaw then reveals that the key is useless to Tapp, but that there are plenty of other victims who are locked up with Tapp in the asylum that need that key to escape. Tapp must not only try to escape and survive Jigsaw's puzzles and tests, he must also fight off a horde of other victims.
The game looks very nice, and is sufficiently moody, and keeps with the feel of the films. There are plenty of traps to contend with, including doors that are rigged with shotguns. This is very entertaining the first couple of times found, but does become very repetitive. Other traps are puzzles, some of which need a combination to a padlocked door, some are a bit more complicated and timed. There is a real inconsistency to the difficulty of the game. Most of the time, the game is too easy - it is very linear, enemies only take a punch or two to defeat and puzzles are very basic. And then there are moments where the puzzles are ridiculously difficult - being under a timer and having very large and complicated puzzles to complete.
You can also collect items and manufacture traps to use on enemies, as well as there being a vast array of weapons scattered about the place.
There is only one boss battle, which is against Pighead, and this is so easy it's laughable that it is considered a boss battle.
You can also choose between three different light sources: a lighter, it only lights up the immediate area, good for searching for tripwires - a flashlight, lights a wider area but can easily miss tripwires - and a camera, it can light up the whole area, but it is just a flash, and there is a recharge time before it can be used again. This is annoying. It sounds like you have to make a real choice depending on the circumstances, but it only really comes into play at one point during the game, when using the lighter can accidently blow up some barrels. Otherwise, it doesn't make much difference.
At the end of each level, Tapp has the oppertunity to save someone from their trap, usually a character from the films, these are very elaborate and are sometimes ingenious. From someone being locked in a furnace and gradually being boiled alive with their own juices, to the classic twisting machine, that turns the victims body untill it breaks.
The best things about this game are Jigsaw's riddles, warnings and other messages, and the big traps at the end of the level with other victims.  The game would be much better if it was focused on those points rather than combat, keeping to the same premise as the films.
Rebecca Foran.
3 notes
See Post tags #saw #film #movie #game #games #gaming #video game #review #game review #saw the game #saw the video game #horror #gore #jigsaw

May 23, 2011
---
L.A Noire
Rockstar Games presents one of the most eagerly anticipated games of the year, and it does indeed live up to the hype. It feels almost as if you are the star in a 1940's Hollywood film, as everything feels perfectly put together - music, outfits, hairstyles, cars, shops and even the way people talk.
Playing as Cole Phelps - a policeman working in L.A around Hollywood and the surrounding areas. You work your way through cases, either on the beat, or, if you get promoted - as a detective or investigator. The variety of cases include robberies, jealous husbands gone too far, crazies out on a rampage bludgeoning people to death, serial killers and many many more. This is fantastically done - some cases are linked, some are similar, but no two are the same, which could very easily happen in a game such as this.
In order to work your way up the police ranks, you must find clues, chase down perpetrators and interview them, deciding how to get the correct information from them. Many people lie, and it is up to you to detect slight facial expressions that give them away. Be careful though, if you don't have the evidence to back up your accusation, you may not be able to continue your questioning!
To help you, there are Intuition Points to spend, which will take away a false answer, let you "Ask the community" (what other players thought), or highlight clues yet to be found. Though opportunities to use these are few and far between as, for the most part, answers are blindingly obvious.
On occasion, it will be up to you to pick between suspects to put behind bars, but pick carefully as picking the wrong one will get you demoted.
There is also an underlying story along side the cases, and flashbacks into Cole's past. All of which is very interesting and keeps you involved up to the very end. The graphics are beautiful and completely outstanding. It can be very hard to spot any difference between in game visuals and cut scenes!
Game play is very simple, but it does work seamlessly - from simple running, to gunfights with an array of weapons to use, to the interview process.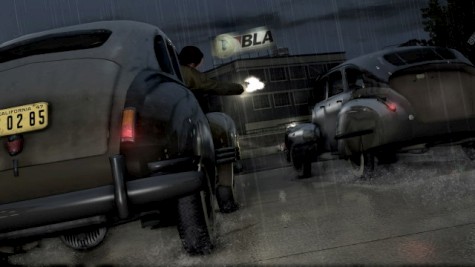 With many cars to unlock, film reels and locations to find and a couple more collectible items; there is some replay value, though not much. Once the story is complete, it may seem tedious going through the game again.
Everyone should play this game. Everyone. Fans of the 40's, gun fights, flashy suits, beautiful women, mobsters, cars, mystery, police, detective work, car chases, intrigue and murder.
Rebecca Foran
2 notes
See Post tags #rockstar #game #games #gaming #video game #l.a noire #la noire #review #game review

June 2, 2011
---
Saw 2: Flesh & Blood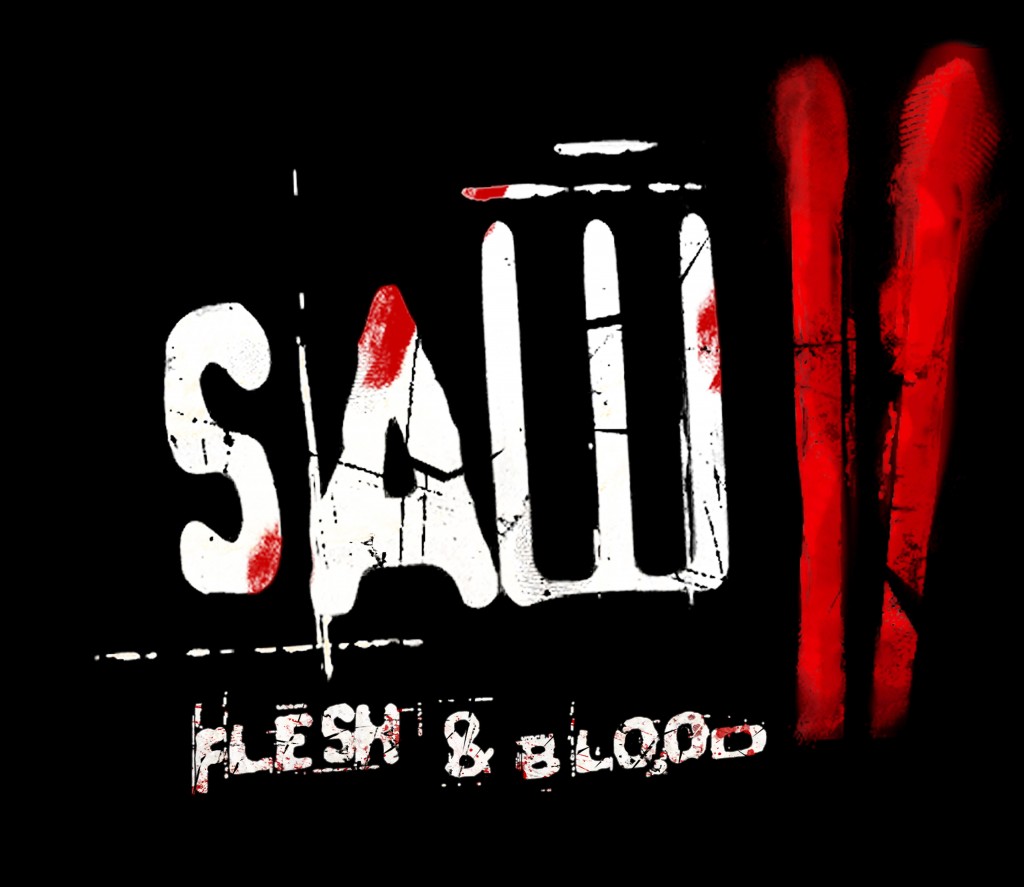 Sequel to the mediocre game based the the much loved series of films, this game delivers in some areas, but fails dreadfully in others.
You play Detective Tapp's son, Michael, and have just discovered your father in his apartment, dead, after committing suicide. Michael is then kidnapped by Jigsaw and must survive the hotel of horrors to uncover why his father killed himself. This provides much more motivation for the character than the first game. And, as for enemies, they are all convicts Detective Tapp had put behind bars, and so are out to seek revenge.
Looking much better than the the previous title, but equally as moody, it is easy to become immersed in the world of Jigsaw. The boring combat system in the first game has been fully replaced with button sequences, which makes combat much more interesting compared to the one hit kill before that was pathetic to say the least.
Puzzles are improved and feel less repetitive. The continuity in difficulty with puzzles feels more natural - all provide a challenge but can be figured out with logic (usually), and end of "level" puzzles are just a tad more complex. Compared to being far too easy or far too hard in the first game.
Tripwires and rigged doors are back, but this time are not as regular and more varied which makes them a bit more of a challenge as you never know when they will pop up.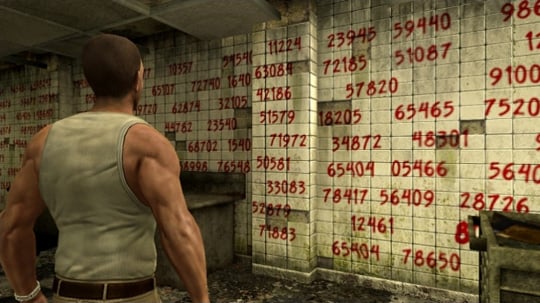 There are also many more characters in this game too, with back stories and fitting traps to boot. In the first game, there were many traps to see, but no back story whatsoever and you barely ever got to converse with anyone. So this is a definite improvement.
The only massive let down for this game is if the player can't get to grips with a certain task, suck as the button sequences or balancing on a beam. There is no alternative method, and so you could get stuck on a silly technical thing for over an hour. This can be very frustrating and will have players screaming at their tv over and over again. One of two of these moments would be tolerable, but this happens so often that it makes the whole game off putting, which is a real shame because so many other improvements have been made.
This game is probably for those die hard fans of the series of films as casual gamers would become frustrated quickly and may give up. With so many improvements it's sad the game has such a massive fault. Though, those who are naturally gifted and determined may find this game a very enjoyable experience.
Rebecca Foran.
1 note
See Post tags #saw #saw game #saw 2 #flesh and blood #game #games #gaming #video game #review #game review #game blog